JEFFREY HIRST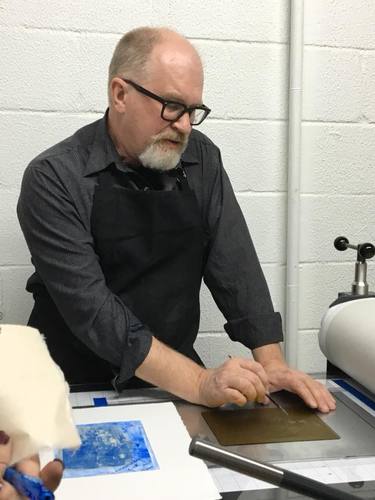 Expanded Approaches towards Printmaking
Express your visual voice through printmaking in a magical environment augmented with exploration of beautiful northern County Mayo in Ireland.
In this printmaking workshop, artists will explore and utilize various print processes including the following:
Encaustic collograph: making printing plates from wax and acrylic.
Carborundum prints: using silicon carbide grit to make rich tonal plates and prints.
Drypoint: mark making on surfaces that will be reflected in the print process.
Printing from cardboard and other found surfaces.
Chine Colle: applying delicate Asian papers to support papers using the press.
Monoprinting using water-based media.
While much technical information is covered in the class, the overall emphasis is using the processes to reflect each artist's personal vision. Workshop participants will create, build, and re-build printing surfaces and imagery to explore personal direction while at the same time stretching individual boundaries.
The class contains demos and talks discussing content and ideas as well as innovative ways of thinking and creating. Multiple creative exercises will be used to help students loosen up and focus. Several talks and videos will be presented discussing contemporary printmakers and how these artists fit into the larger art world. The class will also address ideas about how printmaking, sculpture and painting overlap.
Local field trips will be planned for the class. Trips include a guided archeological tour of a 5000 year old farm in the coastal village of Belderrig and exploring the beautiful landscape of Benwee head. We will also make printing plates in an off-site location that reflect the setting. The class is open to artists with no printmaking experience to advanced printmakers.
This Workshop takes place from the 5th - 13th of October 2022. The cost is $1,850 which includes tuition, shared cottage with private bedroom for 8 nights, lunch/dinner/dessert/tea/coffee, collection/dropoff to the bus/train stations in Ballina, full use of the Dolan/Maxwell Library and facilities 24/7. Participants arrive on the 5th and depart on the 13th (The workshop is for seven days with arrival and departure day making it nine days). Partners are welcome at an additional fee of $50 per day accommodation, lunch & dinner provided.
Jeffrey Hirst earned an MFA from Louisana State Univeristy in 1990 and has worked as an artist since then. Hirst has been showcased at venues around the U.S. and Europe and is represented by galleries in Chicago, Illinois and Columbus, Ohio. Hirst has been a visiting artist at universities around the United States conducting encaustic and printmaking workshops. He owns Hirst Printmaking in Chicago which is a printshop specializing in experimental printmaking and mixing painting and prints.
The recipient of a Minnesota State Arts Board grant, City of Chicago grant and his work is in numerous public and private collections.
http://www.jeffreyhirst.com/
​
To check availability for this Workshop please complete and submit the form below.
Ballinglen: USA/Ireland @The Ballinglen Arts Foundation
Expanded Approaches towards Printmaking with
Jeffrey Hirst 5th - 13th Oct 2022
Class from 6th - 12th Oct 2022
TOTAL $1,850

Registration is open now, booking forms must be received by July 1st 2022. First come, first serve basis.

A $500 booking fee applies and is non refundable payable by cheque or credit card. Final payment must be made before the 31st August 2022, please email for details re payment, booking forms will be accepted online. A fee is payable for materials provided. We will email you a receipt once we receive a payment or booking. Payments are non-refundable 2 months prior to the class. Class participation constitutes an agreement to our Health and Safety Policy.

Accommodation available from 5th with departure on the 13th. Collection at train/bus in Ballina is also included. Please contact Jeffrey Hirst with any questions on the class directly on email

jeff@jeffreyhirst.com

.

All other queries : Úna Forde, Managing Director, The Ballinglen Arts Foundation, Main Street, Ballycastle, Co Mayo, Ireland.

T : +353 (0) 96 43184,

E :

ballinglenarts@gmail.com

,

unaforde.baf@gmail.com http://www.ballinglenartsfoundation.org/ http://www.facebook.com/ BallinglenArtsFoundation

​