APPLIED PRESSURE: PRINTMAKING A PRESS-ONLINE COURSE
JUNE 9, 16, 23 11AM - 12 PM CENTRAL
CLASS COST FOR THREE SESSIONS $125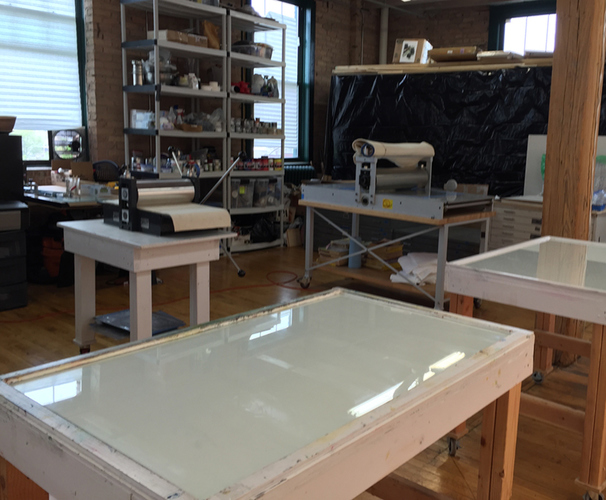 Explore printmaking through a mixed media approach that combines various technical processes to achieve multi-layered prints. Processes are presented in a straightforward approach that is easy to grasp allowing you to start making images right away.
Demonstrations will cover carborundum printing, drypoint, and monoprint. The class will cover printing single color images, multicolored work, and combining mixed media drawing with print processes. If you do not have an etching press you can use an AKUA PIN PRESS.
And if you are a painter, sculptor, photographer, or printmaker, these ideas about layering will inform your work.
Akua Intaglio ink will be used during the class, but you may also use oil-based inks for the class.
This is a live Zoom meeting and is recorded. A private Facebook group is created for the class where the recording will be posted and students may ask questions and post work. 11am – 12 noon Central on Tuesdays June 9, 16, 23 $125
Materials:
(3) small pieces of plexiglass* (10" x10"-approx.)
Inks (one of the following: Akua Intaglio, oil-based inks)
(1) 8 oz jar of Akua Carborundum or 1 small bag of carborundum*
(1) small 8 oz jar of matte medium or gel medium
One of the following: a wooden spoon, barren, empty 8 oz glass jar-approx.)
Tools to make marks: drypoint needle, a nail
(1) 4" brayer
(1) small sheet (10" x 10" or larger) of glass or plexiglass for holding your ink
(7) sheets of paper* (any of the following Rives BFK, Stonehenge, Arches 88, Arches Cover, Rives Heavyweight, Rives Lightweight, Fabriano Roaspina, Kitakata, Arches Oil Paper)
several brushes between 1"-2"
newsprint-25 sheets
(1) roll of paper towels
Some of the materials may be purchased through Blick or Artist & Craftsman
*if you do not have carborundum, plexiglass plates, or paper you may purchase from me.
Class cost $125