​EXPERIMENTAL DRAWING ONLINE WORKSHOP




TUESDAY JUNE 9, 2020

1PM - 2PM CENTRAL



Second meeting dates:




TUESDAY JUNE 16, 2020

1PM - 2PM CENTRAL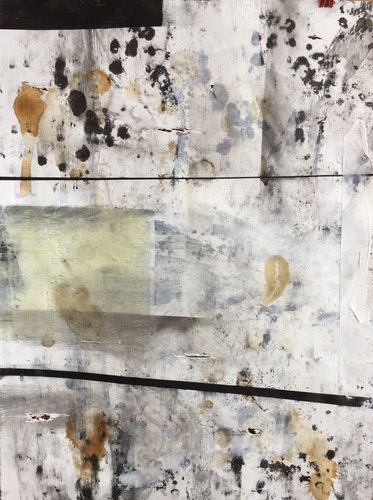 The new

Experimental Drawing Online Workshop

is here!
The class goal is to help you learn new approaches towards drawing that will have you rethinking what drawing is.
The class is divided into (2) one hour sessions with the first online meeting where you view the class video. The video covers process ideas and approaches and the second online class on Wednesday, April 22 or April 29 is looking at work that was completed over the week between the first and second class.
We will use process oriented approaches to explore line, texture, surface, and structure covering techniques in session one that I have used for over 30 years to create works on paper. The ideas can be translated to painting, sculpture, and printmaking. Easily accessible materials that can be used in the class include charcoal, tape, coffee and tea, drywall compound, acrylic mediums, graphite and/or any of the other materials listed below. You can use what you have.
Materials List
5-10 sheets of paper cut to 11 x 15 or smaller.
Good papers include: Stonehenge, Rives BFK, Rives Heavyweight, Arches Cover, Somerset, Fabriano Rosapina, Strathmore, or any drawing paper that has sizing.
Use what you might have. You could also use Arches Oil Paper if you don't have any of the above.

5 pieces of compressed charcoal
Graphite pencils
Colored pencils
Small jar of gesso (encaustic or acrylic). White acrylic paint will also work.
Acrylic paint
Dispersion dyes
Shoe polish
India ink
Vegetable matter such as beets or anything that stains (coffee or tea would work)
Non stick tape
A board that is at least 12 x 16
Cardboard
Drywall compound
A spray bottle filled with water
A small brayer
A small plastic sheet (or plastic wrap) to place on your work area.
Newsprint
An assortment of brushes
sticks, chopsticks
Paper towels
1sandwich baggie
gloves
Be prepared to move outside your comfort zone, loosen up and have fun!
The class is recorded and for you to view at your comvience!

CLASS COST FOR BOTH SESSIONS:

$50
CLICK HERE TO PURCHASE: