PRINTMAKING WITHOUT A PRESS: ONLINE COURSE
MAY 19, 26, & JUNE 2 11AM - 12 PM CENTRAL
CLASS COST FOR THREE SESSIONS $125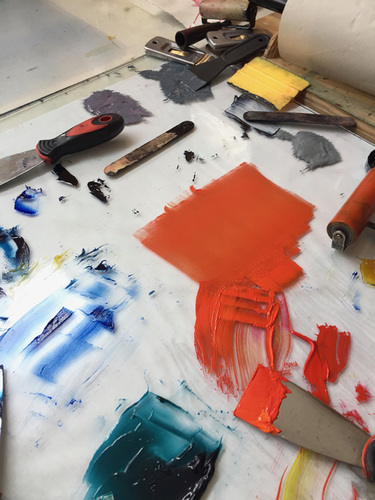 Develop new approaches towards printmaking without a press! Maybe you have wanted to make prints and have held back because of not having access to a press. You have options and this class will cover alternatives that will open a range of possibilities for producing work. Perhaps you have a smaller press, but would like to make some oversized prints. This class will give you the knowledge to do so.
We will cover making multicolored images, mixed media printmaking, and alternative substrates for printing. If you are a painter, this is a perfect class for you, as it will show you how to use painterly approaches that yield complex prints. The class will cover using a barren or a spoon, an Akua Pin Press (optional), and a few common tools for applying pressure. Demonstrations will be given using Akua Intaglio ink, but you may also use oil based inks, Speedball relief ink, or acrylic paint.
The class is a live Zoom meeting and is recorded. A private Facebook group is designed for the class where the recording will be posted and students may ask questions and post work. 11 – 12 noon Central on Tuesdays May 19, 26, June 2 $125
A short material list that maybe purchased through Blick or Artist & Craftsman
Materials:
(3) small pieces of plexiglass (10" x10"-approx.)
Inks (one of the following: Akua Intaglio, oil-based inks, Speedball inks, acrylic paint)
One of the following: a wooden spoon, barren, empty 8 oz glass jar)
Tools to make marks: drypoint needle, a nail
(1) 4" brayer
(1) small sheet (10" x 10" or larger) of glass or plexiglass sheet for holding your ink
(1) small 8 oz jar of matte medium or gel medium
(7) sheets of paper (any of the following Rives BFK, Stonehenge, Arches 88, Arches Cover, Rives Heavyweight, Rives Lightweight, Fabriano Roaspina, Kitakata, Arches Oil Paper)
newsprint-25 sheets
several brushes between 1"-2"
(1) roll of paper towels
If you do not have all the materials that's not a problem as we can improvise.
*if you do not have plexiglass plates, or paper you may purchase from me.
Class cost $125